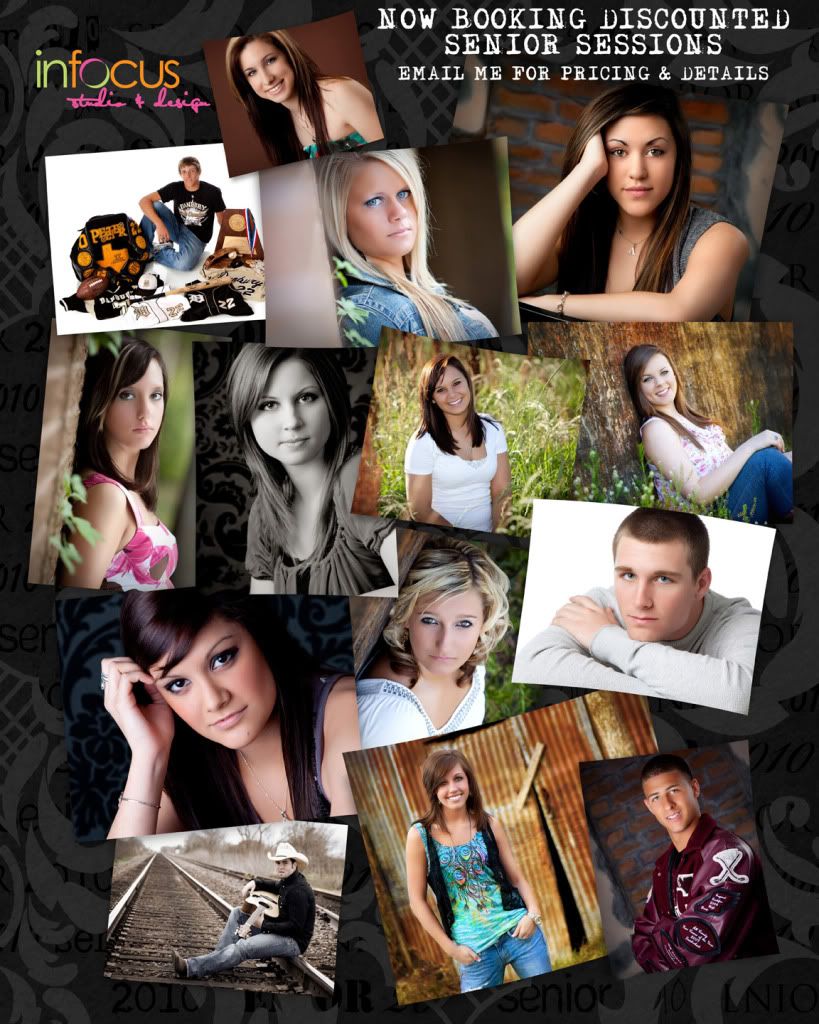 We are currently offering huge discounts on our 2011 senior sessions for a limited time. Discounts like this will not be offered again this season so take advantage of the special and book now. Email me at infocusstudioanddesign@yahoo.com to book your session today.
The following dates have been set up for the 2011 senior discounted sessions. The sessions are heavily discounted and will only be offered on the dates given below. Space will be limited so be sure to reserve your date as soon as possible to ensure that you will get the date that best suits you. We will not be offering any other dates unless there is a rain out designated by us.
Saturday, January 29th – Downtown Freeport – This will be for those who like that city feel, concrete, old buildings, etc. We will be scheduling in the afternoon and will let you know exact times at least a week ahead of time.
Saturday, February 12th- Studio- This will be for those who want some indoor pictures as well as outdoor sets outside the studio.
Saturday, February 26th- Out Under the Trees (Angleton)- A little more country with a rustic feel. We will be using old porches, swings, trees, fences and fields.
The total price for seniors sessions will be $270 tax included (regularly over $600) and will include:
Session Fee (each senior will have a minimum of 45 minutes)
A CD with a minimum of 30 high resolution images that have been fully retouched. You will also have a print release for the images so you can print when and where you choose. You can use them on announcements that you create, in yearbook ads or pages, etc.
You will also receive the 30 images in low resolution good for using on web pages and emails.
You will be allowed 3 clothing changes total.
20-5x7 prints (you choose the images for printing)
Add a Cap and Gown AND/OR Sports Session mini 30 minute session on Thursday, January 27th for $100 tax included (over $400 regularly) and receive at least 15 digital files with print rights and 15- 5x7 prints (one of each on the cd).
To reserve your spot contact me with the date you wish to reserve and I will send you payment information for making a $100 deposit to reserve your spot. The remaining $170 will be due at the session. In the event that you have to reschedule due to illness or otherwise, your deposit will be transferred to a regular session with regular studio pricing. The discounts above are only good for the dates provided.
SPACE IS LIMITED SO BE SURE TO EMAIL ME ASAP.